Your chance to win
£500

every week!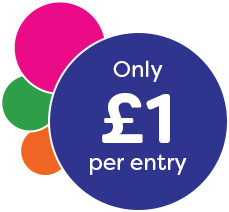 Our next draw is in:
02
13
06
36
DAYS
HRS
MIN
SEC
Play today
Win
£5,000

in our Superdraw
Play today, transform tomorrow
Start playing our weekly lottery today and the money raised will go towards our vital work helping to make life fully inclusive for deaf people and those with hearing loss or tinnitus.
We invest in developing treatments to protect and restore hearing and to silence tinnitus. We also offer a range of community support services and campaign for equality to help the people we support to live the life they choose.
This means that for over 12 million people in the UK who have hearing loss, and the six million who have tinnitus, there's a greater chance for a better tomorrow.
How it works
Within 14 days of processing your entry, we'll post you your unique lottery number/s and the date of the first draw to which you'll be entered. You'll also receive your unique lottery number/s by email.
You can also sign up via our hotline 01524 752548 (telephone and textphone Mon to Fri, 9am to 5pm).